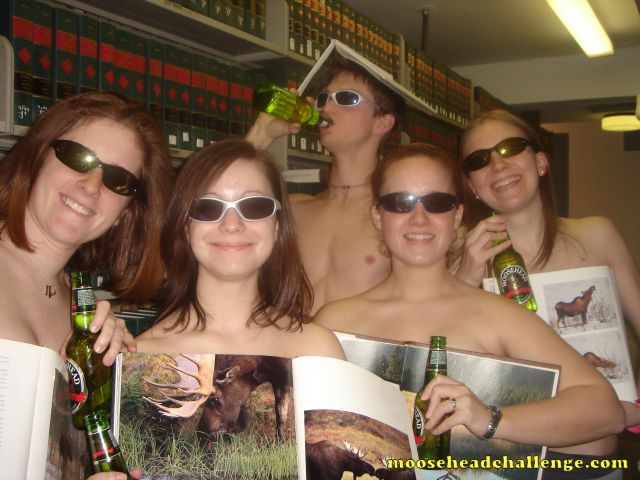 What is the Moosehead Challenge?
The Moosehead Challenge is a loosely organized social drinking event – with optionally competitive elements – that has taken place every year (except one) since 2000. It began in Southern California, quickly expanded up the west coast, and is now the international juggernaut you see before you. The detailed backstory can be read here.
How do I participate?
To participate in the Moosehead Challenge, all you have to do is photograph yourself drinking a Moosehead Lager in unique locations throughout the month of February. The more creative the locations the better, and you can never use the same place twice. Teams are encouraged, but not required, and the definition of "place" is as flexible as you want it to be. Pictures are uploaded into the gallery and voted on weekly by all players. Fun, friendship, and creativity are all watchwords of the MHC.
What is the level of involvement?
Whatever you want it to be! While there are a variety of prizes and honors available for particularly dedicated challengers (as outlined in the official rules), the MHC encourages anyone who is interested in participating to do so! Just signing up will give you the ability to vote on the weekly pictures. And you might be surprised how many points you could rack up with just a couple of truly awesome shots.
What are the rules?
First and foremost, you must be of legal drinking age to participate. Beyond that, you should be respectful of local laws and customs, achieving maximum style while pissing off the minimum number of people. We recommend reading the MHC official rules for a complete understanding of how the Challenge is scored.
How do I sign up?
Whether you just want to hook up for a night or two of freemoosing, or you're In It To Win It, sign up via the "signup" page and you should have gallery uploading privileges within the day. Signing up gives you the ability to post your exploits as often as you'd like, as well as vote in the weekly Style Point Survey.
How do I go about uploading my pictures?
A full step-by-step tutorial can be found here.
Did you say there are prizes???
Hells yes! The individual or team who accrues the most points over the course of the Challenge will be dubbed that year's Supreme Moosenik and will receive the coveted Moosenik Chalice for an entire year. On top of that, anyone who completes all 28 days of regulation play will be dubbed a Knight Templar of the Moosen Order and will receive an official Knights Templar Shirt, a badge commemorating the year of their knighting, and a permanent seat in the Hall of Thick Antlers (a high honor indeed). There are a variety of other honors and prizes to be won as well. Consult the official rules for a complete run-down.
Where do you get your "Moose Challenge of the Day" words from?
With a tip of the hat to the New York Times' crossword department, we have enlisted the watchout4snakes Random Word Generator to generate one random noun per day, increasing in difficulty throughout the week from "Very Common" to "Obscure" and resetting every Friday. Some editorial discretion is involved, but we always pick the first reasonable noun that comes up and post it as soon as we get it.
Is this officially sanctioned by Moosehead beer?
No! Mooseheadchallenge.com is in no way associated with Moosehead Breweries Limited. It was simply a combination of dumb luck and competitive pricing that first brought the Moose into our lives – this could just as easily have been Operation Redhook or The Warm Pabst Initiative.
Please tack any other questions you may have onto this thread, and we'll do our best to answer them in a timely fashion.
Cheers,
Moosemaster D